It happened to me. A former regular here was married to a guy who's now married to a former boss of mine (who I went out with once or twice). In other words, I knew her ex-husband's current wife. That is, her ex-husband and I went out with the same woman. He ended up marrying her.

I lived in San Francisco from 1980 through 2002. While on CIH one day, I noticed this CIH member lived in San Francisco, too, and was about my age. I figured I'd ask what her sphere was, in SF. That is, where did she live, where did she hang out, etc. I mentioned I worked from '81 through '87 at a hospital in my former SF neighborhood. She said "let's talk about this via PM". She PM'd me and asked if I knew such and such a person who also worked at this fairly large hospital. Seems the person she knew quite well was someone I knew really well back then, too. I replied with one of the photos I took of this woman about 1985. She forwarded the photo to the woman, who she'd become friends with over the years. As a result, I got in touch with this ex-boss, who was, at this point, living in Maine, and who I hadn't had any contact with since about 1991. I forget who called who, but the first time, she had me on the phone for three hours. That woman can talk! I remembered it was the same when I worked with her. It was pretty cool talking to her.

I also became friends with the CIH member, and used to visit her occasionally in SF. She's since moved to the East Coast, and I keep in touch with her. It's been awhile, though. She owes me an email.

Also, it turns out we'd been in the same house in SF during that same period. Probably went to some of the same parties, passed each other on the street, maybe even talked to each other, etc. She also used to go to the comedy club I used to be a doorman/bouncer at in the Haight in the early '80s. I probably had to kick her out once or twice.
What are the chances, huh?
Here's the woman, from about 1985, we both knew.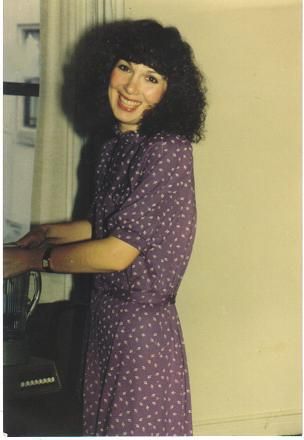 Here's me from about the same time, with another co-worker. I'm the white guy.