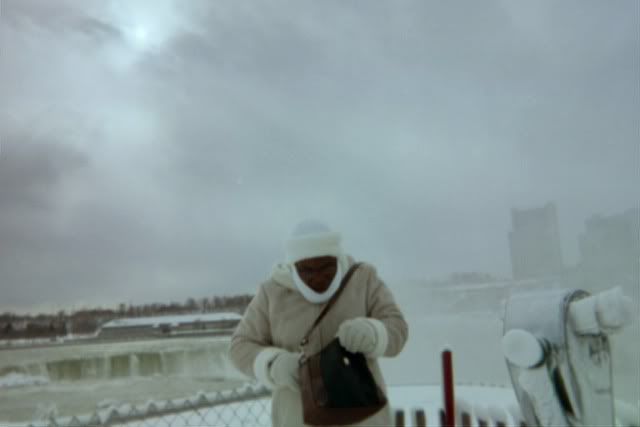 1.) MissyDWolf, a bit ago...
2.) Suggestion from HR...
HollyRock wrote:

Hey anyone want to chip in and get MissyDWolf a Buxton Organizer?
3.) We actually were able to spring for one, the other day!!!
"Christmas Comes Early to Wolf Island..."
It arrived at the front of the Den before we got home; MissyD excitedly opened the mailing bag to expose her very own Buxton Organizer! She was like the proud brat who doesn't share with others as she ran to the bedroom with her treasure...yea, o.k., fine - like *I* want to use it?! I think not.
About an hour later, out comes the 'Buxton Make-Over'...and I must say, I was simply stunned! Smaller bag, efficiently packed, hanging over the shoulder of my Beloved. A newfound air of confidence surrounded her to go with an incredible smile. That 'Kodak-Moment' is now burned into my memory, forever...
Last night, we went out for the evening - Buxton Organizer in tow.
Buxton Organizer Fault #1
"I like the cell phone holder! Right up front; I can hear it when a call comes in, for a change! Go ahead! Call me!", she says, sitting next to me on the packed route '40' bus...
"I'm sure you wouldn't lie to me, love..."
"Go ahead!"
So, as about twenty close-by unknown people were viewing me very oddly, I grabbed my cell to call my wife, who is sitting beside me...
Sure enough, her phone goes off! And everyone can hear it, thanks to the nifty front pocket made especially for it, on the 'Buxton Organizer'.
All passengers are simply amazed.
"See?!!!", nobody could mistake the total look of glee on her face.
By now, her phone has gone to 'leave a message'-mode...advantage=Pa!
'Horrification Deluxe'...
"Where are you? I'm tired of you never being around, never meeting my needs - so I'm leaving on the bus with my mistress!", I sharply proclaimed into my own cell phone.
All passengers are stunned; MissyD's mouth is wide open - catching flies...she can't even blink...a number of passengers are glaring at me, and a few old ladies speaking some Euro-dialect were angrily pointing at me, whispiring low and fast...(I'm thinkin' they were simply jealous and wanted their own Buxton Organizer)...
The silence throughout the bus is broken by the 'message waiting' beep from the cell phone in the Buxton Organizer Cell-Phone holder...
After sufficient bruising of the top of my head, we had a very enjoyable evening, although she DID decide to pay me back in spades, per se...at dinner.
Buxton Organizer Fault #2
She made sure folks knew we were around as she decided to reorganize her Buxton Organizer at the dinner table - by emptying it out on the table, while playing 'AirHead' as she showed me each item she was putting back into the Organizer.
She would hold each item up, tell me what it was and where and how it fit best.
THAT was about an hour of unbearable humiliation, as other diners looked on, while she went through her act. The other customers all seemed to understand I had this coming...
If 'word-of-mouth' product advertising is best, a whole restaurant full of people left knowing the inner-workings and benefits of the Buxton Organizer - and the very most intimate contents of MissyDWolf's own.
The rest of the night was quite enjoyable; overall, we had a fun, lovely evening.
REAL Buxton Organizer Fault
Be sure and waterproof or saddlesoap the leather - the dye will bleed if it gets wet. A bad thing for those that want to contrast their nice, white suede leather jacket with a wet, black Buxton Organizer.
The GOOD News
The good side of all of this was it gave me an excuse to spend a few bucks ($6.99) on some new sweat pants at that famous French fashion chain, 'Tarshea' (Target).